Let the countdown begin. Brazil will be burning in just about 60 minutes.
I'm using an HTC M8 running KitKat along with Tasker v.4.3 and Trigger v.8.5 to add in NFC support.
Assumptions for this guide are that you have:
A phone that supports NFC
Some programmable NFC stickers or badges
A Foursquare account, valid OAuth token, and a VenueID you would like to use. If not, visit Foursquare's Developer Site before proceeding
STEP 1 – Install & Configure Tasker

Launch Tasker and enter Preferences
Touch to the MISC tab and enable "Allow External Access"
Save/Confirm changes, and close Tasker
STEP 2 – Install Trigger
The order of installation apparently makes a difference, so make sure to install it after Tasker
STEP 3 – Create a Foursquare Checkin Task
Launch Tasker
Touch to enter the Tasks tab
Add a new task, and label it whatever you'd like
When prompted to "Click + to add an Action", do so and select the "Net" option
Within the "Net" action group, select "HTTP Post"
For the "Server:Port" enter the following:  https://api.foursquare.com
For the "Path" enter the following:  /v2/checkins/add?venueId=VenueIDHere&oauth_token=OauthTokenHere&v=YYYYMMDD
Example:  /v2/checkins/add?venueId=5642309487SDFdsda29&oauth_token=0NVSDFJSDHFDSKFJDSFAFDAWBS&v=20140626
Save the Task and press the Play icon from the Task Edit section to run the task and confirm it's working as expected
All done with Tasker
STEP 4 – Create an NFC based Trigger
Launch Trigger
Touch the "+" icon to add a new Trigger
Touch the "+" icon once again to define what the Trigger will be based on, and select "NFC"
You'll receive a prompt indicating that you'll be able to write this trigger to an NFC tag once done. Touch "Next" to proceed
Define any Restrictions for when this trigger will be applicable, or just touch Done to proceed with the default settings of "No Restrictions"
Touch Next to proceed with what this Trigger will do once activated
Touch the "+" icon once again to choose between categories of actions, scroll down to Tasker and check the "Tasker Task" box and touch "Next" to proceed
Touch the magnifying glass to reveal all Tasks configured within Tasker and select the one configured above to checkin to your Foursqaure venue
One done, you're returned to the Tasks section where you can add or define other actions which should take place with the trigger is activated
Touch Next to proceed and you'll be prompted to configure a "Switch" set of actions. Click Done to proceed
You'll be taken to a screen where Trigger will wait for you to present or tap an NFC tag to program it. Once done, you'll receive an audio/visual confirmation
Touch Done when finished and you'll be returned to the Tasks/Triggers screen to reveal which triggers are currently enabled and what their actions are
STEP 5 – Test it out!
Close out of Tasker and Trigger
With the phone unlocked, tap your programmed NFC tag and Trigger should pick up from there
Based on the Trigger you've set up it will check you into the predefined venue and kick off any other actions you may have set
Best @google logo of the #WorldCup so far! pic.twitter.com/7R43ci0Cam
Looking back at some old clips of @normmacdonald doing stand-up and from being on Dennis Miller's HBO show. Could not stop laughing…
Nice that some @TMobile customers have access to @Rhapsody UnRadio for no added cost. Lack of shuffle across all stations is a major bummer
"Hot damn it. Your booty like two planets. Go head and go ham sammich. Whoa, I can't stand it." Move over Shakespeare, make room for Derulo
The @Seamless android app is ridiculously less polished than the iOS app. Painful to use and worse to look at http://t.co/Yma8AYNxuY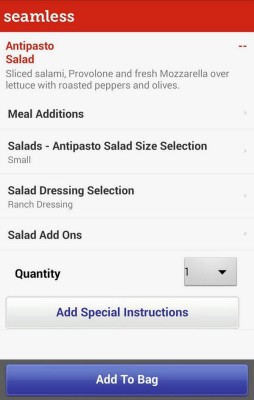 Team PartPic: Winner of best app built using @Mashery and @Intel_XDK at the #SearsDevChallenge http://t.co/JSi70hIV7j
All apps have been submitted. Let the demos begin!! #SearsDevChallenge http://t.co/PrSvxITBG4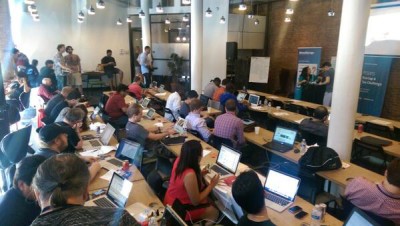 Crunch time at the #SearsDevChallenge and spirits are high (No, it is not just the caffeine). Hit up @MasheryDev with any questions.